ADVERTISING TRAILERS - NOT CURRENTLY AVAILABLE
Advertising trailers are not currently available - we are waiting for a delivery from a new supplier.
Blendworth Trailer Centre's advert trailers can be used for all types of promotions either as a mobile advert which can be driven through selected areas to attract a target audience or as a static display parked in any number of different locations.
We have advert trailers for sale, we also sell advertising trailers in special sizes, bespoke designs are also available.
For more information, help or advice on our range of mobile advertising trailers for sale please call us on 02392 412 731 or alternatively email sales@blendworthtrailers.co.uk.
Our advertising trailers are available in the following sizes:
2.4 metres
3.6 metres
4.8 metres
All trailers are braked or unbraked, single or twin axle and are constructed from either phenol faced plywood or glass reinforced plastic (GRP) panels.
They have the option of a solid floor and rear door to enable the carrying of goods or to add weight for increased stability in heavy winds and are built on a fully galvanised steel chassis which are sealed against the elements.
Standard Advert Trailer Features
Fully galvanized steel chassis
Solid body to all 4 sides
4 stabilising legs
Jockey Wheel
Optional Extras
Floor and Door
Banner tensioning system
PVC banner
Spare Wheel 500x10 6 ply
Spare Wheel 500x10 8 ply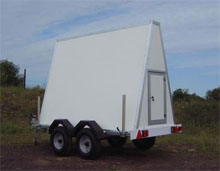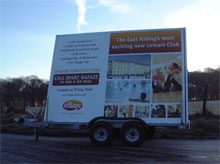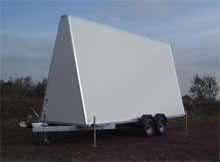 Get in touch
Visit us, please call on 02392 412 731 or email sales@blendworthtrailers.co.uk for more details and advice on our full range of advert trailers for sale.